Posted in
Events
by
margreet
The Making of "Big Buck Bunny": An Open-Source Evolution
Wednesday, 13 August, 8:30 - 10:15 am
Petree Hall C
In May 2008, the Blender Foundation released their second open-movie project: "Big Buck Bunny," a funny and furry 3D short about a giant rabbit who gets even with bullying rodents. This session brings together the key people who created the movie and presents all the aspects of an open-source and open-content-based animation studio, and how this affects the creative process. The panelists showcase project files from the studio, and even recreate parts of the film on demand! This 90 minute session starts with a screening the 10-minute film and ends with a 15-minute Q&A with the audience.
http://www.siggraph.org/s2008/attendees/caf/caftalks/index.php
Posted in
Events
,
Media Gallery
by
margreet
An article about Blender and the making of BBB of 8 pages has been printed in the June issue of Linux Pro Italian magazine, with short (boxes) interviews with Enrico, Sacha and Andy.
Posted in
Events
by
margreet
Big Buck Bunny has been awarded for a 'special mention' from the jury of Cyborg FilmFestival within the section animation.
BIG BUCK BUNNY of SACHA GOEDEGEBURE
The Netherlands 2008
"Such mention, intends to underline the great ability with which has been completed the creation of characters animate of the work and their character animation able to absolutely return an expressiveness worthy of products commercial high-level, and such mention, wants besides, to be the occasion to underline the important value of a software 3D as Blender, with which the work has entirely been realized, and that it opens a 'important reflection on the value of the open source and of the free software in the professional and commercial world." thus Luisella Chiribini
Posted in
Random Fluff
by
ton
Here's stats from the past week:
Vimeo: 300,000
Youtube 215,000
Downloads:
Waag.org torrents: 102,000
Sun Microsystems network.com: 120,000 (estimate, reported 29 TB traffic)
Sketchworkproductions.com: 125,000
video.blendertestbuilds.de: 55,000
Grand total: 917,000! Pretty good numbers. Without counting all the other mirrors, iso dowloads, our own dvds, and assuming more people watch a single download, we can safely estimate that over a million people have seen BBB now!
-Ton-
(Note; I did not include the italian mirror, which is most likely between 50 and 100k too. Waiting for their confirmation.)
Posted in
Media Gallery
,
Production
by
Jan
Wheee, my first blog post. Sorry that I'm late to the party :) The complete score is now online for your listening pleasure. It consists of 10 tracks, including the bits I did for the DVD menus, and is available both in MP3 and high-quality Ogg Vorbis formats. Grab it while it's hot:
MP3, ~192 kbps VBR, 16.2 MB ZIP
Ogg Vorbis, ~224 kbps, 17.8 MB ZIP
The isolated score is distributed under the terms of the Creative Commons Attribution-Noncommercial-NoDerivativeWorks 3.0 license. Thanks to Andy for the neat cover image. Enjoy!
Posted in
Blender Institute
,
Events
,
Random Fluff
by
ton
We've collected several mirrors worldwide for a stable and - hopefully fast - hosting of the BBB movies. You can download the files in four different flavours, which will nicely work for all common video players and OSes.
The download section also has Vimeo and Youtube links for streaming video.
Lastly, mirrors with the DVD ROM studio files are also being added now!
Have fun watching! And, thanks again for the great feedback and ongoing support. It has been a great ride for everyone here, and I definitely look forward to the next open movie… which - as promised - will not start before the Blender 2.5 project is in usable state. Most likely that's end of 2008, early 2009.
Lastly: don't stop buying the DVD! Revenues will be used as startup financing for the next Open Movie, and hopefully I can afford to send the full Peach team to Siggraph…
-Ton-
Posted in
Events
by
sacha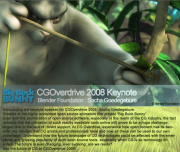 One of the benefits of being one of the creators of an open movie like BBB, is that you get to show it in different places all over the world. And that's exactly what we want, Blender worldwide.
One event I'm extremely happy about is CG Overdrive in Singapore, Asia's biggest Computer Graphics conference (some of you might have already read about it on BlenderNation).
Posted in
Blender Institute
,
Production
by
ton
We have shipped everything to Europe and rest of world last tuesday, May 20th. Some close Europe countries might arrive already this week friday or saturday. Dutch orders are being shipped today, and arrive friday. (Well, there's rumours the Dutch Mail will strike…)
So, we hope almost everyone can their own home-cinema premiere during the next 10 days. In the mean time we'll build a large network of http mirrors, torrents, and streams to make sure we can do the public movie launch on May 30 or 31st. Keep tuned!
In anticipation of the DVDs, we've upgraded the gallery with a couple of final frames from the movie. Also check the press section for a great story about BBB in today's Netherlands largest quality news paper.
Finally: please mark in the Frappr map below when you get the DVD. Makes it a review of our shipping company as well. :)
http://www.frappr.com/?a=constellation_map&mapid=137440549214
Posted in
Blender Institute
by
sacha
Today we found some DVD's (around 2500) outside the door of the Blender Institute. So we had the idea to just bring them inside and start packing them, get them ready for shipment. All I can say is pretty awesome.
Many thanks to Anne and Anja from the e-shop, some guys from the Apricot team and Martin Poirier (theeth) who are working hard to get the dvd's out as fast as possible…… oh, and Ton too.
Peach out,
Sacha